Estelle Huchet: "The main task ahead of us is thus to change the way we talk and feel about ageing and older age"
Ainara Arregi
Estelle Huchet is the campaign officer, she coordinated the global campaign against age discrimination #AgeingEqual at the end of 2018 and actively participates in awareness-raising activities to combat age stereotypes and age discrimination and capacity building. Gizadiberri talked to her about ageism, and the different initiatives that are being carried out, in order to combat this discrimination.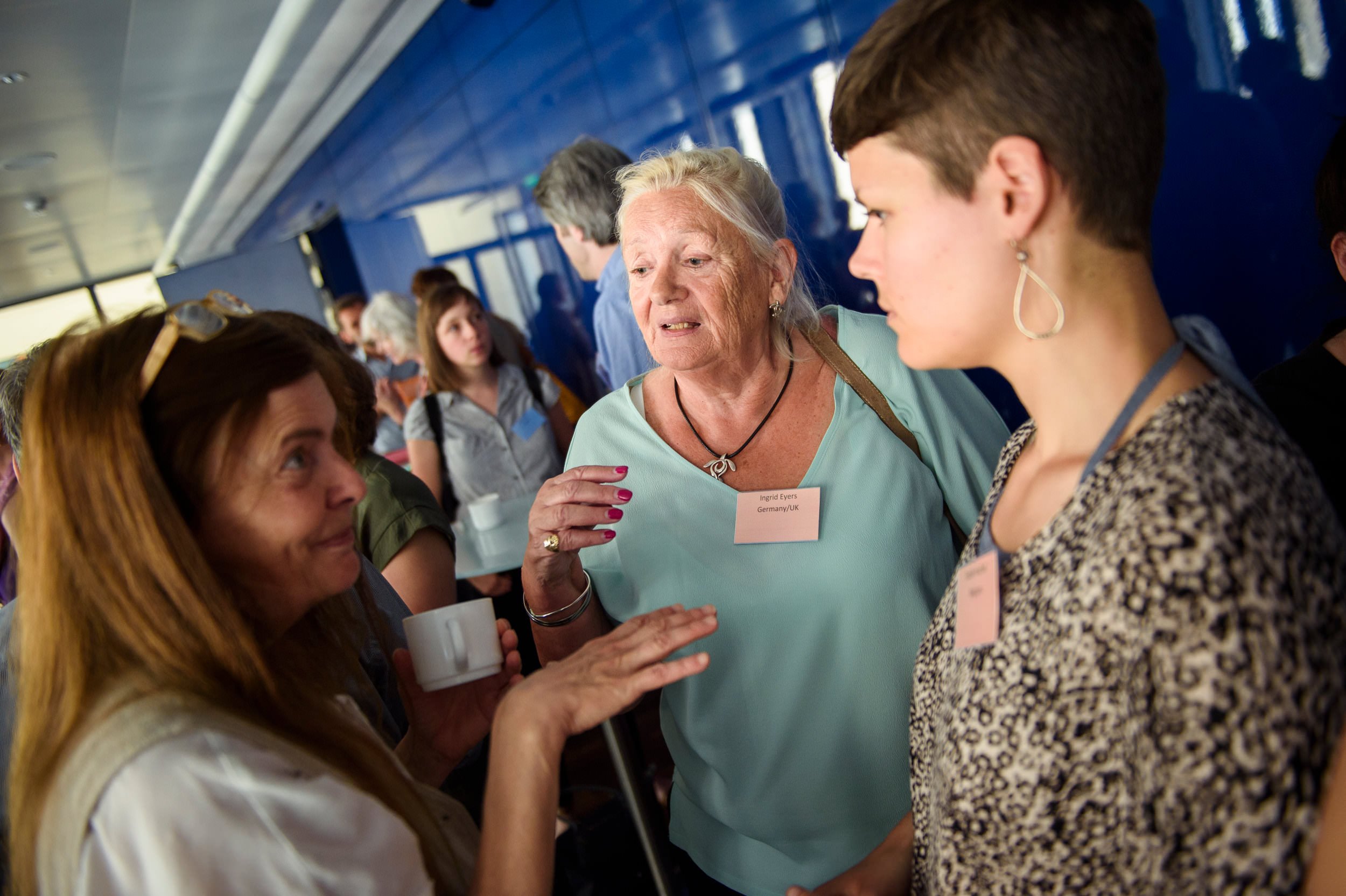 What is ageism?
Ageism is the harmful phenomenon that encompasses the stereotypes, the prejudices, and the discrimination of individuals or a group of individual on the ground of age. It can affect both younger and older people. But when the term was first coined in English, 50 years ago, it was to describe by the American psychiatrist Robert Butler as "a process of systematic stereotyping and discrimination against people because they are old…".
How does ageism affect older people themselves?
We start to develop ageist stereotypes as soon as the age of 5. We go through life in societies where ageism is so widespread, being most of the time adopting ourselves ageist attitudes, that when we reach older age, we have internalized the ageist injuctions that older persons should slowly withdraw to give the floor to the next generations. Thus, it is not surprising to see older persons retreating as if they no longer had their rightful place in society.
Ageism has damaging effects on individuals' self-esteem and sense of autonomy in older age, as well as on their capacity to have a positive outlook on life and make projects for the future. Ageism has serious consequences on people's health and wellbeing. As such, it is also a very detrimental phenomenon for society at large. On top of the missed opportunity to see older persons contributing to society, ageism generates ill health, and tolerates elder abuse.
One of the objectives of the campaign that you started last year was to create a community of anti-aging? Have they got it? How is that community currently?
The #AgeingEqual campaign was the first Europe-wide effort to raise-awareness of ageism and gather anti-ageism activists around a same banner. The #AgeingEqual campaign went beyond our hopes: we keep receiving a lot of supportive messages and enthusiastic feedback that this initiative must be maintained. At the same, the initiative gave us the opportunity to connect with a lot of local and national organisations that are running similar projects. The community is growing, but it takes a global effort. Ageism has no border, the fight against it shouldn't either.
Regarding social policies, after the campaign have you noticed any change?
Policies are often the results of a variety of factors. But they are also the product of a context. Calling out ageist legislations and questioning political priorities when they threaten to leave part of a community aside are obviously contributing to shaping social policies. It can be difficult to assess, but we can fairly imagine that the situation might be even worse without civil society organisations playing the watchdogs. Sometimes, we can be pleasantly surprised of our impact: in Belgium, a blogpost on the campaign website by the Flemish Council of Older People about discriminatory age limit in the reimbursement of visits to psychologists had led to a reaction by the Belgian Ministry of Health shortly after the blog was shared on social media. The Minister is now considering how to change the unjustified limitation.
When do we start to be older people? When do we begin to be victims of age discrimination?
Working for the European network of older persons, we often get this question: at what age do we become "old"? The thing is that age is both something dynamic and relative. We constantly change age because time is passing, but even though we are all getting older, we are also all younger than someone. What is important to dissociate is the chronological age – the number of years since our date of birth – and the social constructs around it. Because you are or because you look like being a certain age, certain behaviours or attitudes are expected from you, and if you deviate from them, it will be considered that you are "too old" for "that". Age discrimination starts from the moment someone starts to treat you differently because you are considered "too old".
What do you think about the initiative launched by the Council of Older People of Bizkaia in order to combat ageism?
We can lead social change unless we are first aware of our own prejudices. Ageism is a sneaky phenomenon; it is infiltrated in our language, our fairy tales, our movies, our professional practices, our institutions… Working in partnership with the Basque media to analyse how older persons are portrayed was an excellent starting point for several reasons. On the one hand, media produce content and the wording and images they use keep infusing in our brains without us even noticing. It can be referred as passive learning. On the other hand, media are often channels for opinion leaders to have a say. If journalists are not aware of their own ageist bias, they might well contribute to invisibilise older persons or picture them only in very specific settings (e.g. care homes) or in relation to a narrow range of topics (e.g. pensions, isolation).
Do you know any other project similar to that of the Council of Older Persons of Bizkaia that is being carried out in Europe?
As far as we are aware, the Council of Older Persons of Bizkaia was the first older persons-led initiative on ageism in the media. By having this project initiated by older persons themselves is critical to already take action against ageism: it puts older persons at the center as central actors and leaders of the change they want to see! In the past years, other initiatives conducted most often by academics or research centers came to life. The European research project COST Action on Ageism had already seriously dig into the topic of Visual Ageism in the Media (Loos and Ivan, 2018). In the UK, the Center for Ageing Better announced in August 2019 that they were starting a new project to understand how ageing is portrayed in the media, in the social media and in policy. Their project is very ambitious: eventually, they expect to reframe ageing to shift to a more positive narrative around older age.
What is being done in Europe against ageism? We are on the good way?
The fight against ageism gained some traction over the past years. We see more and more initiatives trying to shed light on the positive contributions of older adults, like Oldyssey in France, Flourishing Lives in the UK or Old People Are Cool in the US. We also observe older persons defending themselves more and more, forming groups of activists to defend their rights or participating in social movements that give them a voice. We are on the good way, but the way is still long.
What should the media do to end ageism?
Media alone cannot end ageism. It must be an individual effort from each of us to reflect on our stereotypes, our prejudices and how those influence the way we behave towards older adults or our older selves. It must also be a collective process, to consistently scrutinise our laws, our policies, our internal rules and processes. The media has a large role to play, and will be a critical stakeholder to lead the change. The words and images we use are not neutral; and they can largely truncate reality. To some extent, they can even shape it by bringing forward only one perspective that will justify to adopt one solution more than another. The media in democratic societies should be a platform for public debates and for all citizens to have a say, including older adults, in their diversity.
What can society do to combat ageism?
Each stakeholder has a role to play, from the tiniest company to the most prestigious institution. Raising awareness will be a first step, through campaigning, education and training. Developing and providing the tools for individuals and organisations willing to change their practices will also be critical: "if you take away a table leg, be sure you put another one in its place" says The Dancing Fox. The main task ahead of us is thus to change the way we talk and feel about ageing and older age – it means to shape new stories of how we want to live our later lives, without having anyone else writing it for us.
In a society like ours, where there are more and more older people. How is the future of ageism presented?
The American activist Ashton Applewhite writes: "we feel shame and embarrassment instead of taking pride in the accomplishment of ageing. (…) Unless we confront the ageism in and around us, we lay the foundation for our own irrelevance and marginalization." Either we combat ageism and build a society truly inclusive of all ages, or we are ahead of our own relegation. Personally, I chose my side! ;-)